The Riff Vandal's Signature CD by Mike Garbutt
Songs of a lifetime, mixing truth and allegory
Mike Garbutt fell in love with the guitar before he reached 10 years of age. However, it wasn't until his late teens that he learned how to play popular music and attempt to earn a living as a musician. Following the Hippie Trail to Peace and Love, Mike quickly discovered living hand to mouth wasn't his idea of how a successful musician ought to be living? Abandoning the idea of a career in music, Mike sold his six-string and followed several other career pathways, earning a living until age 65.
As you may have guessed already, Mike bought another six-string along the journey, and embodied the songs of his lifetime in truth and allegory, and recorded "The Riff Vandal's Signature CD." As well, during the later part of his working life, Mike -AKA- "The Riff Vandal," also performed for many years as a volunteer musician in his home province of Manitoba. Music With Mike was very popular for almost 15 years, either solo or as part of the Riff Vandals.
Please enjoy listening to my Opus Majus, so to speak, and make a commensurate contribution towards Mike's continued music endeavour. If you can't download either the zip file containing all the tunes, or individual mp3 files by right clicking on the music player consul (somewhere), please contact me and I'll email them to you. Otherwise the songs and lyrics are available for purchase or for none exclusive lease for you to record in videos, movies or advertising slogans and the like. Or simply feel free to download the songs for your personal use, although all contributions are welcome : )
Take care, be kind and enjoy life ~ Mike
---
"The Riff Vandal's Signature CD" by Mike Garbutt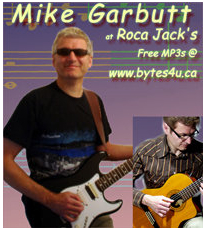 Download all 18 tunes at once by following this link, The Riff Vandal's Signature CD, then simply add the un-zipped MP3's to your music library:
1. Every Inch Of Death
2. I Wish For You Too
3. Would You Like To Take A Trip To Paris
4. Busking
5. Driving Out Of My Mind
6. Heading Down To Dixie
7. Sitting Outside Of The Gentlemans Toilets
8. Heroine
9. Victoria
10. Prairie Rain
11. People Ask Why Things Are Changing
12. Ghost (first version)
13. City Heights
14. If You're Traveling Down A Road You Don't Know
15. Sleeping Out By The Side Of The Road
16. I Was Changed By Dreams
17. I Don't Know Why My Love Grows For You
18. Your Best Move
Bonus Track #1 ~ Lovers After Rain
Bonus Track #2 ~ In The Heat Of The Night
Bonus Track #3 ~ Rommel's Chauffeur
Bonus Track #4 ~ Nobody Cares
---
A couple of tunes recorded by Mike Garbutt and Ernie Kull ~ Final mix: Ernie Kull
Prairie Springtime
I Wish For You Too
Additional instruments on Prairie Springtime and I Wish For You Too (2018) by virtue of Ernie Kull. Songwriting, Vocals, Guitar, Piano, Sampling, Audio Recording, Mixing, Editing, Mastering, Rendering, Website Development and Hosting ~ Michael (Mike) Garbutt ~AKA~ Riff Vandal, and BYTES4U
---
Please contact Michael (Mike) Garbutt -AKA- Riff Vandal at: riffvandal@mts.net for information on further use of these songs in videos, movies, advertising slogans, or even Web Site Development and Administration and the like, or simply help support Mike by making a PayPal donation today after you download some or all of the songs for your personal music collection, thank you.
Thank you ~ Mike
---
The Science Behind Survival And Replication Syndrome (SARS)
Assembly and secretion of rubella virus-like particles in mammalian cells - Michael Garbutt's M.Sc. Thesis
Michael Garbutt's peer reviewed publications
Michael Garbutt's Certification
Michael (Mike) Garbutt aka Riff Vandal's facebook page
---
Take care, and please lead by example, follow with respect, be at home with yourself and keep your guard up, tell the truth, support your position, stand your ground and watch your back too, take care, be kind and enjoy life, it's its own reward. And please remember that there are only crimes and twists of fate : )